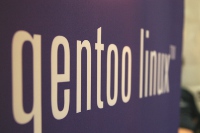 By now my voice has almost recovered: I'm looking back on four days of non-stop explaining USE flags, summarizing a Gentoo installation, selling 28 shirts in total, coordinating this and that: LinuxTag 2010 Berlin/Germany is over. All kinds of visitors accepted flyers -- we were rather proactive on distributing them -- and asked questions: young and old, with wheelchair and without, hobbyists and professionals, men and women. Especially to meet three female Gentoo users was a welcome surprise: With less-than-we-wish-for female developers in Gentoo I didn't expect to meet any;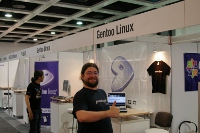 interestingly they didn't seem to know that they were even wanted to join as developers. I hope all of them will get in touch with us.
We took the opportunity to participate with the Projects Fast Forward -- a collection of talks, 2 slides in 2 minutes each -- on all four days, teasing visitors to find out more at our booth. Florian Streibelt did great at the talks and the slides itself. On Friday the Förderverein Gentoo e.V. had a two hour meeting on fairgrounds.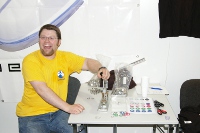 This German initiative -- which has conceptual similarities to the US-based Gentoo Foundation -- is funding flyers from member fees and provides other background services for the European community. Four new members joined during LinuxTag. On Saturday rbu and I teamed up for an interview with RadioTux introducing Gentoo hosting of user overlays, the upcoming Git migration and changes in tone on communication mediums. You'll hear more on that soon. Also Saturday was the day that a Swedish consultant who is part of upstream of the free Linux-based BIOS replacement Coreboot (formerly LinuxBIOS)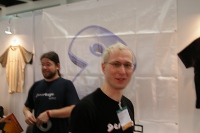 approached me articulating interest in joining as a developer in close-to-native German. He would be the fourth Swedish developer and I am optimistic he could be that soon. His overlay "stuge" hit Layman earlier today.
On the non-Gentoo front I had a chance to shake hands with the new Debian project leader Stefano Zacchiroli, and to learn about QA processes in Debian from Jan Hauke Rahm. The Kernel report talk was interesting, too. Also part of my time explaining things went to Free Software, not just Gentoo.
Back to Gentoo. As Gentoo is about choice we had a few visitors choose what flavor of sweets to re-fill the sweet distribution plate with: they will never forget the sweet taste of choice in Gentoo. Also, the Gentoo badge compiling machine served demonstrating choice and compilation again, operated by Daniel Sturm most of the time. Chithanh participated in the distro contest for us and also was part of the team winning the hacking contest. I assume with his Gentoo shirt on in that moment. The hopefully complete list of current developers who I met on LinuxTag is: lu_zero, idl0r, polynomial-c, dertobi123, amne, rbu, hollow, chithanh, a3li, vorlon, hanno. Current Gentoo-GSoC student Andreas Nüsslein (rewriting webapp-config) also came by, Timo Antweiler said hello, too. Thanks for the chocolate to lu_zero, thanks to the helpful and friendly LinuxTag team (especially Jacqueline), thanks to everyone helping out, especially to Sebastian Dyroff for joining with setup on Tuesday evening. See you again next year!
Fotos in this post were taken by Florian Streibelt, license is CC-BY-NC-SA.